GOAT(greatest of all time) Roger Federer serving for the match point, he is one point away from the 19th grand slam and 8th Wimbledon title. He looks as relax as he could ..bounces the ball 2-3 times and throw up … hit  cleanly… pitch on the sweet spot of middle of ground .. and ACE..  Five years wait is over .. he lifts the Wimbledon trophy for Record 8th time… he was getting bit emotional while waiting for trophy ceremony.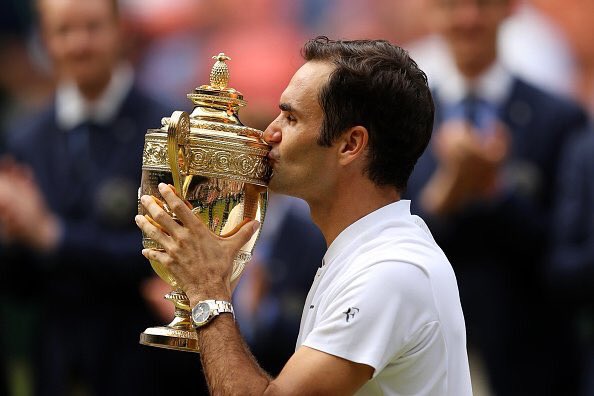 Two weeks before when Fab four of tennis got Top four seeding expectation is to see all four in wimbledon semis, but that never happened and only roger Federer amongst them remain in semifinals so its almost confirm that Roger is going to win the wimbledon and the matches in semis are like whole world against the opposition.
UNHAPPY OVER THE STATE OF GRASS COURT
Andy murray, Djokovic, Kristina Mladenovic, Forgini and some other player are unhappy over the state of Grass court. Djokovic actually complain about hole on the centre court. Weeks of hot weather and little rain have left many surfaces stripped of ju on fifth day of tournament.
Wimbledon officials dismissed concern over the state of court. "the court preparation exactly the same meticulous standard as previous years" told officials.
MULLER ENDS NADAL'S RENAISSANCE
         In the most exciting match of this Wimbledon Rafael Nadal, who looks in good form, loses to 16th seeded Muller after 4 hours 47 minutes marathon match.
        Nadal lost first 2 sets without breaking Muller's serve, Muller dominate those two sets completely. In 3rd and 4th set the Nadal of Never say die comes and won the next two sets. So match result will be decide on fifth set where no tiebreaker available.
        Fifth set which is tense and dramatic affair and waiting someone to make mistake. Needing to defend two match point at 4-5 Nadal responded with his best serve at the critical time. he hit ace down the middle, scored two service winner to win that game and save the match point.
         To win the match now required to win two game continuously means need to break the serve. but both players unable to do that till the match situation was 14-13 in Muller's favor. In the final game Nadal mishit forehand and then on fifth match point swattered ball long, ending the match that both will never forgot for a long time.
Andy Murray and Djokovic Lost in quarter finale
Top seeded Andy Murray lost to Sam Querrey in quarter final, He was faded  in later stage with limping injury.
While Djokovic forces to retire due to elbow injury when  trailing 7-6(7-2), 2-0. Djokovic hint that he may take rest for next six month and may not participate US OPEN.
AGELESS FEDERER
After winning Australian Open start of the year Federer decide to take break in clay court season due to undergoing knee surgery last year, also to extend the career. which turn out benefitial as he looks more fit and fresh, while his companion Murray and Djokovic faces injury problems.
He reached the semifinal without losing a set where he meet tomas berdich, who advanced when second seeded Novak Djokovic retired while trailing 7-6(7-2), 2-0 in the quarterfinale. This match is probably his toughest match of this tournament, where first 2 sets gone into tiebreaker, he won both 7-4. In the third he become more aggressive and attacking, breaks Berdych's Servive in seventh game and eventually went on to win the match.
In the semifinal he perform like the well trained dancer who keep the spectators on edge of seat by his fluent moves.
RECORDS
Never lost set in full tournament.
First man to win Wimbledon for 8th time
First man to win 19 Grand Slams
Oldest man to win Wimbledon in Open era